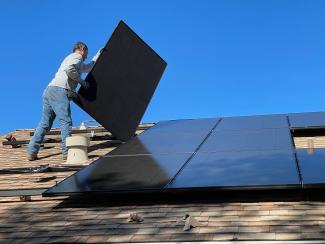 Just a few months after getting married in 2016 my wife and I found out we were expecting twin boys and realized our one-bedroom apartment wasn't going to cut it.
Knowing that we had 2 on the way, we had mutually decided that we wanted to get a house we could see them growing up in. I suggested that we only look at houses we could envision them graduating high school in, this put us in a unique position to consider solar since we knew we would likely be in the house long enough for financing solar to be finished before we might think of selling.
It can be problematic to sell a house when you have solar, you're leasing and/or still paying off, so this was a potential barrier to going solar we just didn't have.
We were also incredibly fortunate to be able to make a house like that work financially, we both had worked hard and saved but it's not lost on me how lucky we are, and how hard our parents worked to give us the opportunities we had.
When we were looking for houses, I definitely wanted solar. If it made sense.
However; It wasn't a dealbreaker but as we looked at houses, I did check them with Google Project Sunroof.[i]
The stars aligned (pun intended) and the house that made sense for all the other reasons,
happened to have a new roof (~3 years old)
with the back south facing (ideal for our area)
with no shade!
It looked amazing on Project Sunroof. My wife wasn't a huge fan of the aesthetics of solar panels but when we knew they could be hidden from the street she was completely onboard.
It was a little bit tricky to try and get solar ASAP because many of the companies wanted 12 months of your usage and wouldn't take the data provided by the prior owner, so Tesla/SolarCity[ii] was a no go. We closed on the house in May and had the solar installed before the end of September, and our electricity bills that summer were really high.
Initially I thought we were going to lease; my thinking was by the time I pay these off (if I buy them) they'll be old technology but when we ran the numbers it just made so much sense to buy. The financing was a 2-part loan, with part one being a bridge loan for the tax credits and an 18month repayment period and part two being 15 years of monthly payments. If we had leased, we could have kept the state tax credit (but not the federal) but would have had 20 years of payments instead of 15 and then need to lease new panels or buy them off the lease at the end. Interestingly the monthly payments were pretty similar for each option.
We decided to go with SunPower[iii] panels, they had the best available capacity, 360w, and we could use only the back of the roof for a system that should have been able to produce more than our estimated usage based on what the prior owner had told us. I figured if the math worked where we should be spending less on energy in year one, which it did, and we were going to end up owning the panels it made sense to go with the best available and oversize if anything with the hope that EVs etc. are happening during the life of the panels. These panels have micro inverters on each of them, which is good, because even though there have been issues with the microinverters all of the panels run independently so the rest of the array works perfectly even if one is having issues. If you have a system with just one inverter, if it isn't working, the whole system is down. The panels are also guaranteed for 25 years so my hope has been they'll last as long as the roof and solar roofing will be commonplace by the time our roof or panels need replacing.
NY has changed how net metering works for newer installs, but our grandfathered-in deal is that we settle once annually with the utility company. So far, we have had excess every year which they buy back for pennies on the dollar, but it's almost enough to eliminate the charge to be connected to the grid, now around $14 monthly, we typically get more than 6 months of no utility bill after we settle. So even though we have a monthly loan payment we literally don't have an electric bill in the summer when our usage is the highest. If you get solar now in NY state, I believe it's a 20-year bank that accumulates, which might have changed our decision on sizing.
So far, even though I had to have a few microinverters replaced over the years, (under warranty no cost out of pocket) and lost production because of that I have gotten production on the high end of what the quotes said we could produce in good conditions.
Our usage overall has been a little less than I expected, and we had to replace our AC and pool pump since we've been here, which has cut the usage substantially since the new ones are much more efficient. Unfortunately, I was not able to get someone willing to put in an air source heat pump when our AC broke, though now I hear ads all the time to do it here.
One company had said they would do it but their follow up was poor, the other companies basically said heat pumps don't work here. I told them that I wasn't expecting to replace oil heat entirely, but that we could lower our oil usage substantially with a heat pump, but they weren't buying it at the time. In the last few years air source heat pumps have improved dramatically for lower temperatures and as of 2023 the Inflation Reduction Act has dramatically increased tax credits available for heat pumps[iv].
Oh well, I actually ended up using electric heaters to supplement the high cost of oil this winter, which only made sense because of the excess kWh in my energy bank with the utility.
We investigated batteries, but it just hasn't made economic sense yet, because of how our net metering works it's not as though we have an arbitrage angle. So, the cost would basically be just for when the grid is down.
So, it's been over 5 years, and we've saved money since day one. Our utility costs are more predictable since its mostly the loan payments for the solar. We pay more in the winter than we would without the solar payments but it's more than made up for in the summer months, this does make our budgeting a little trickier though because we have increased heating costs as well during the winter.
We have overproduced pretty substantially, which economically hasn't necessarily been the best thing so far. If I could do it all over again though, I wouldn't do it any differently. I wanted to size the system to be large enough to transition more stuff to electric over time and also, even if my utility is making a nice profit on selling my excess to my neighbors it feels good to know that the electricity around my house is a little cleaner and there's no way to put a price on that.
I am always looking for ways to lower costs and increase sustainability, but there are many variables that go into big financial decisions. I hope that by explaining my own rationale and context, I've given you some things to think about so you can make more informed financial decisions.
Photo by Bill Mead on Unsplash
#solar #electrifyeverything #economics #sustainability #financialdecisions #heatpumps #energy #electricity #solarproduction #hvac #savingmoney #factors #decisionmaking
[1] https://sunroof.withgoogle.com/
[1] https://www.tesla.com/blog/tesla-and-solarcity-combine (This was after Tesla bought SolarCity but before the name SolarCity was dropped.)
[1] https://www.whitehouse.gov/cleanenergy/ "Households can claim a tax credit for 30% of the costs of buying and installing a heat pump, up to $2,000 including support for any electric system upgrades needed to make the home heat-pump-ready. Beginning in 2023 state programs offer low- and moderate-income households rebates for heat pumps at the point-of-sale, cutting costs of purchase and installation up to $8,000. If home electrical upgrades are needed to integrate new heat pumps, rebates of up to $4,000 are available to households."